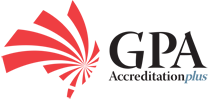 Our choice of accreditation provider is  the GPA ACCREDITATIONplus (GPA) program.

 The Royal Australian College of General Practitioners ( RACGP) is responsible for maintaining standards for quality clinical practice, education and training, and research in Australian general practice. RACGP provides references for Standards for general practices
All Australian general practices and after hours services must adequately meet the RACGP Standards for general practice to maintain a current accreditation status.
RACGP Standards for general practices (4th Edition)
The RACGP has provided the following 4th Edition resources for practices via their website:
The RACGP Standards for general practices (4th edition)
The RACGP Computer and information security standards
The RACGP Standards of Infection Control