History of Young District Medical Centre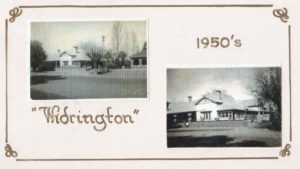 The commencement of "Widrington"practice is uncertain. There were no doctors at Lambing Flat (now Young) before gold was discovered in 1860.
It seems possible that it started with Dr J K Barnett, for the Young Chronicle Newspaper of July 7, 1875 stated that "Dr Barnett had arranged with Dr J T Heeley of Victoria to practice in partnership with him.
" He was expected to arrive by the end of the month and on Thursday July 22 Dr Barnett left town with his family for Sydney.
Dr Heeley served for 27 years as a doctor and townsman. He was tendered a public luncheon on his retirement and departure to Sydney in November 1902.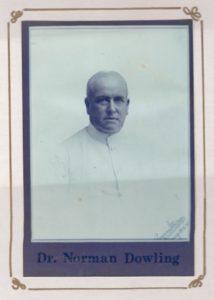 As Dr Dowling moved into Dr Heeley's house as successor to Dr W H Steel it seems fair to assume that the succession was
Drs Barnett, Heeley, Steel, Dowling, Cooke, Rowe to the year 1949.
The house "Widrington" was extended in Dr Rowe's time and has now been converted into flats.
Part of it at one time served as the Young Post Office in Lynch Street before being moved to Cloete Street.
Dr Charles Rowe purchased the practice from Dr Cook in 1948 and in the early sixties the practice moved to Ted McAlister's house in Boorowa Street which was the site of the now, (to be constructed) McDonalds Restaurant.
It continued there until Dr Rowe and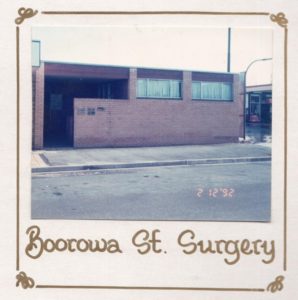 Dr Mullany, who joined the practice in 1957, built a new surgery at
51 Boorowa Street. Dr Rowe continued to practice there until 1970.
Dr Mullany continued to practice at 51 Boorowa Street and was joined by Dr Alan Oxenham (1967 – 1990), Dr Michael Allam (1971), Dr David Norling (1973 – 1979), Dr David Grimsdell (1972 – 1977), Dr Peter Durey (1976 – 1983), Dr John Gale (1978 – 1990), Dr Paul Sevier (1983 – 2014), Dr Fiona Gleeson (1987 – present), Dr Stephen Ross (1990 – present), Dr Craig Brown (1990 – 2002), Dr William Meagher (1991 – present), Dr Diane Larcombe (1994 – present), Dr Tom Douch 2006- present.
Young District Medical Centre
In 1993 due to extensive growth of the practice which then consisted of 6 practitioners, a purposely built medical centre at the present site of 16 Cloete Street was constructed. The Business name was created at this time
The building was extended by the Associate owners in 2007. This was enabled with the assistance of a grant from ANU Medical School and a grant From Regional Partnerships Programme of the Federal Government. Honorable Alby Schultz gave assistance in the Grant process and he was able to officiate at the Official Opening of the extension.
Cloete Street
Our location Cloete Street: P.L. Cloete was Chief Commissioner of the Southern Goldfields – he was closely associated with Lambing Flat from 1860 to 1863. He was appointed Water Chief Magistrate in Sydney during 1864.