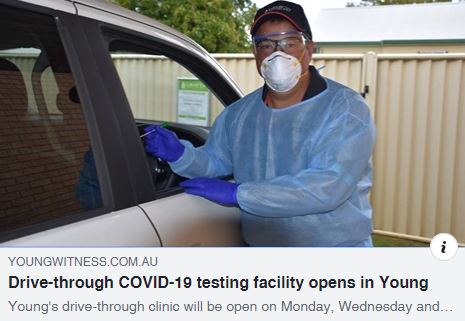 This is the practice information leaflet under development – YDMC welcomes our private pathology company LAVERTY – the practice has been in discussion with local Manager Peter Kirkwood – information may vary as local experience and demand for testing changes
After a review your treating doctor has recommended COVID-19 testing.
This test is to be done at Laverty Pathology at 15 Boorowa Street Young.
PLEASE DO NOT VISIT LAVERTY PATHOLOGY TO MAKE AN APPOINTMENT.
You MUST ring Laverty Pathology on 63821212 to make an appointment for the test at which time you will be given instructions as to how the test is be conducted.
Your doctor will have forwarded the pathology request directly to Laverty Pathology so you do not need any paperwork.
It is essential you attend Laverty Pathology at the time of the appointment – DO NOT TURN UP MORE THAN 5 MINUTES EARLY. DO NOT BE LATE AS THIS CAN COMPROMISE THE TESTING OF OTHER PEOPLE.
Your test will be sent to Sydney for overnight processing.
Your doctor will automatically get the result from Laverty Pathology usually the day following your test but delays may occur for a variety of reasons.
Please ring Young District Medical Centre after lunch the day after your pathology test and ask for the results clerk. You will be told if the result is available and when your treating doctor will discuss the result with you.
UNTIL YOUR RESULT IS KNOWN AND MATTERS HAVE BEEN DISCUSSED WITH YOUR TREATING DOCTOR YOU MUST CONTINUE TO ISOLATE AT HOME AND STRICTLY OBSERVE GOOD HYGIENE PRECAUTIONS SUCH AS SOCIAL DISTANCING, HAND WASHING AND SAFE COUGHING INTO THE ELBOW CREASE.